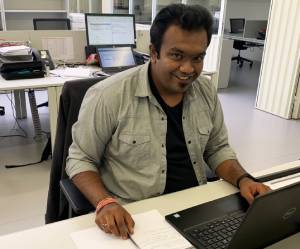 Tell us a bit about your roots, academic journey and how you end up working at Controlar, in Portugal.
My ground roots are in a city called Bengaluru/Bangalore in India. I was born there but grew up with two different cultures. The first 12 years of my life I was in Dubai and then my parents sent me to a Christian boarding school in Bangalore/Bengaluru where I finished my basic education. I then went on to study engineering in a college in the same city and had an opportunity to come to Europe for the first time. I did an internship in Turin, Italy, on subjects of marketing and entrepreneurship. It was not engineering based and gave me a lot of knowledge in other fields which I am also interested in. This experience brought me to love the European culture and I knew at that moment I would return to study and share a part of my life here. This brought me to study my Master and I chose Portugal. As I was studying and nearing the end of my Master's thesis, a professor told me about a job opportunity and I applied. I was selected and my journey in Controlar began.
What attracted you to study Robotics and Automation Engineering/ Autonomous Systems, first in India, then abroad?
When I started my Bachelor, to study Mechatronics and Robotics as a University certified course was very new. I was fascinated by the idea of robotics and knew the future was going in that direction. So when I found out that there was a university and an affiliated college in my city that offered the course, I went for it. After my internship in Turin, I wanted to study more and gain more knowledge about this topic. I knew I had to come back to Europe, this time for longer. After a lot of research and multiple opportunities in different countries I chose to come to Portugal for the course structure that was offered, the culture, the low crime rates, amazing food and much more.
You currently work for the Test Systems Department as a PCB Engineer. What are your main tasks? Can you share a bit of your daily routine with us?
This team is very close knit and we share a lot of the projects that come our way. We have a good dynamic and support each other with the respective tasks. The main tasks I perform are planning and managing projects that are allocated under me, Microcontroller programming and flashing, In-System programming using tools, remote support to clients when needed, verification and testing of new developments, and documentation. The daily routine always begins with checking of e-mails and planning the flow of the day. When days are busy, I dedicate the entire day to tackling all the necessary tasks to keep everything going smooth. When days are not that stressful, I always try and offer help to any department that might need another set of eyes or hands. Our department also follows LEAN Fridays, which is a good reminder to reorganize and declutter all the mess.
Besides the cultural differences, what challenges did you come across in your job and how did you overcome them?
I would say the biggest one is the language for sure. Portuguese is a hard and complex language to master but with practice and people willing to correct my mistakes it has definitely gotten easier.
What do you enjoy most working at Controlar?
The people and their high spirits, who always seem to cheer you up with a strong good morning or how are you and smile on their faces. The feeling of inclusion, on whether everything is going good with work and if any help is needed or even if you brought lunch or not so we can eat as a group. The ambiance of the workplace, the entire thrill to learn, practice and strive for more.
How do you stay up-to-date with advancements in Engineering?
I am subscribed to a lot of newsletters and magazines from around the world and stroll on LinkedIn for the latest updates. I also follow some technology expos from around the world and like to watch the convention videos when they are available for the public.
What are your expectations for the future? Do you plan to stay in Portugal for a long time?
With the current situation happening the world and a new normal being constructed, all I just hope is it gets better. I do plan to stay longer in Portugal, how much longer will depend on a lot of factors that are out of my control.