Name:
Charles Siluvaimuthu
Age: 42 years old
Education: Ph.D – Electrical Engineering
Job role: Business Development Manager – India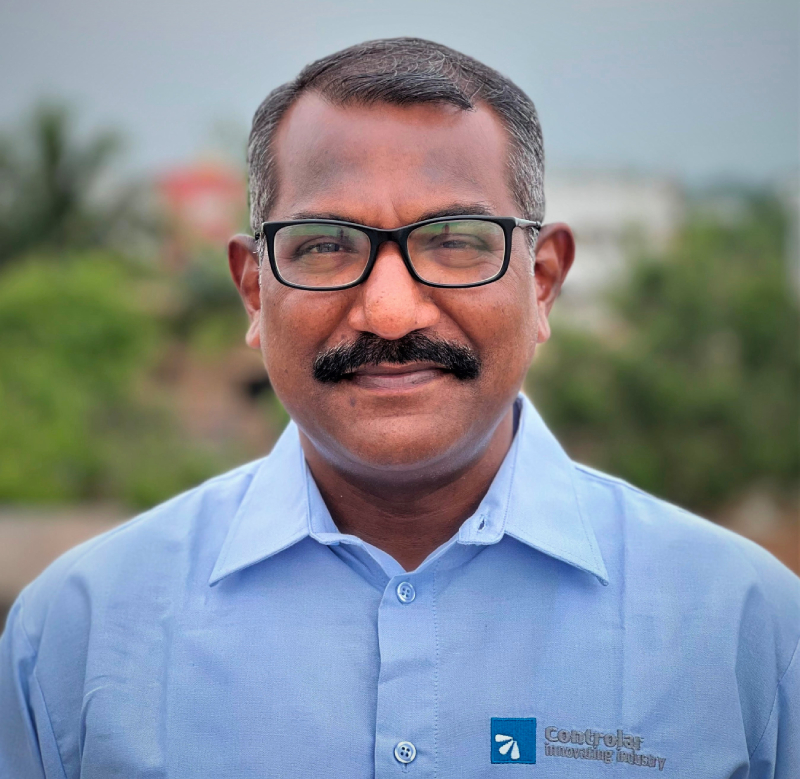 Tell us a bit about your academic journey. What attracted you to study Power Electronics Engineering and later do a PhD in the field of Quality Improvement?
I completed my Undergraduate Degree (Electrical and Electronics Engineering) from Periyar University, then finished my Postgraduate studies (M. Tech – Power Electronics) from Anna University. After my post-graduation, I joined the Indian Institute of Technology (IIT- Delhi), one of the most reputed institutes in India, as a Research Associate in the field of Power Electronics. During my research, I got interested in Power Quality Analysis, which will help me to complete the Ph.D.
How did you end up developing business and sales strategies for Controlar/EIIT and how is it going so far?
Controlar Group / EIIT is new to India market except for few existing customers. I had to start from scratch, which is challenging. I had to implement Go to Market (GTM) Strategy for product promotion and provide unique value proposition to customer; to visit regular customers across PAN and do virtual meetings for the pre-sales and company promotion activity. Recently, we identified a partner and distributor in India to support the local projects. At present, we have a good number of opportunities and RFQs in hand across India.
How do you overcome the challenges that come across in your role, such as the distance factor?
By coordinating with our global technical team, submitting proposals and addressing the customer Q&A. Now, we have a weekly call to address most of the topics. Special thanks to Mr. Rafael Martos (General Manager of EIIT) for the continuous support.
In your perspective, is it harder to cultivate a new lead/find a new customer or to retain existing ones in this field of activity?
In my perspective, finding new leads and new customers is more challenging, as new client acquisition requires lots of effort and due intelligence. Once we get an entry, then we can get a continuous project / RFQs with the best support.
How does a European company conquer the Indian market and build loyalty among the industry players?
Being a European company with quality project and domain expertise will help us build the loyalty among the Indian clients. For instance, EIIT has unique capability in terms of PCBA testing solutions. Also, we need to be price competitive to win local industry players.
The shortage of semiconductors and the electrification goals have hit the automotive industry on a large scale, prompting changes in this business model. How do you feel this has affected the business and the provision of test systems in India?
Electrification is the hot topic everywhere. Many Indian OEMs and global OEMs are investing a lot on Electrical Vehicles. Government of India is pushing towards zero emission vehicles. Controlar group / EIIT should be ready with the New Test System to address this EV Market.
How do you see the evolution and future technological challenges in the industry sector? Is Controlar prepared to face them?
Industry is coming up with new technologies almost every day. Especially on the automotive industry, new technologies like ADAS, Connected Car, Electrification, Human Machine Interface and Data Analytics.  Controlar Group / EIIT is partially ready and needs to come up new test systems and solutions to address these new demands.
What qualities do you think make someone a good salesperson?
As a good salesperson, first he/she should be a good listener. Listening to customers provides enough information. He/She should be a trusted advisor to solve customer problems and be strong in technical knowledge to understand the customer issues and problems. He/She should own unique knowledge to create new leads and opportunities.
What do you enjoy doing when you're not at work?
Listening to music and do some exercise. I spend 1.5 hr. min every day in health activities.