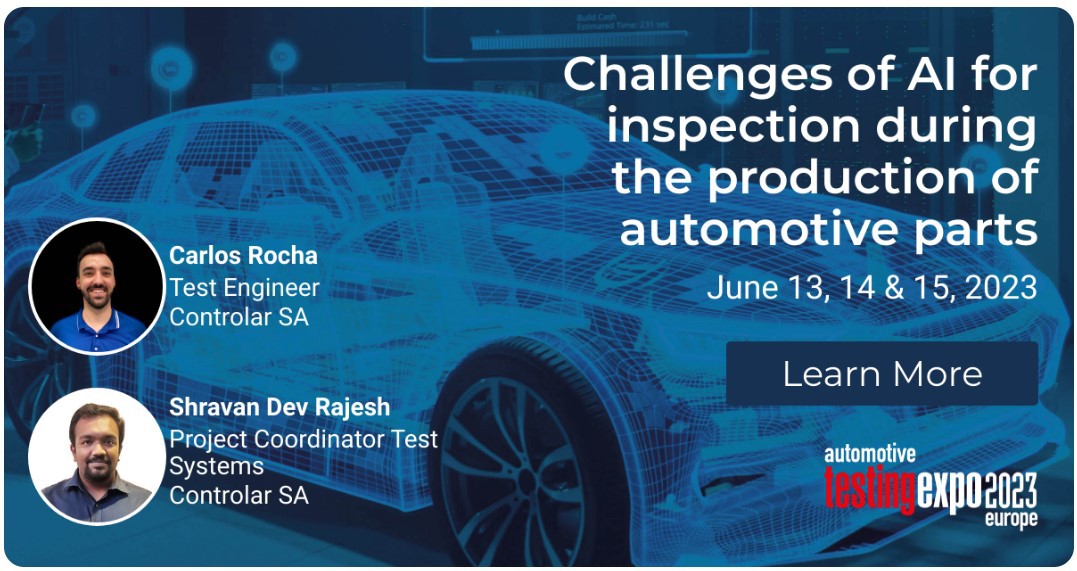 Our Engineers will be speaking on the Technology presentation stage at Automotive Testing Expo, in Stuttgart, Germany.
On June 15, Carlos Rocha, Test Engineer, and Shravan Dev Rajesh, Test Systems Project Coordinator, will speak about the Challenges of AI for inspection during the production of automotive parts.
The use of AI in the automotive industry has seen an increasing growth in the last decade. When applied to test systems in a production environment, it can bring considerable benefits, like an improvement in efficiency and accuracy. It also poses several challenges, such as the need for large amounts of data to train the AI models. It is difficult to build these datasets before the product goes into mass production, due to the need to include samples without and with several types of defects. Controlar aims to present some innovative projects in this field, that tackled these problems and have shown promising results.
What the audience will learn:
The difficulties in integrating AI in test systems for production, which includes the need for large datasets.
The systems developed by Controlar that apply AI to detect defects within the production of different automotive parts.
The different methodologies to acquire data/images from products that are still not in production.
The strategies to effectively monitor and maintain AI systems, to ensure their continued performance and accuracy.
How to manage the deployment and integration of AI models within existing systems and processes.
Automotive Testing Expo is the world's leading international expo for every aspect of automotive testing, development and validation technologies, taking place every year in Detroit, Shanghai and Stuttgart.
In Europe, as elsewhere, it is the leading event for the technologies and services in ADAS and autonomous vehicle testing, electric and hybrid powertrain testing, battery and range testing, EMI and NVH test and analysis and the full spectrum of test and validation technologies for full-vehicle, component and systems development.